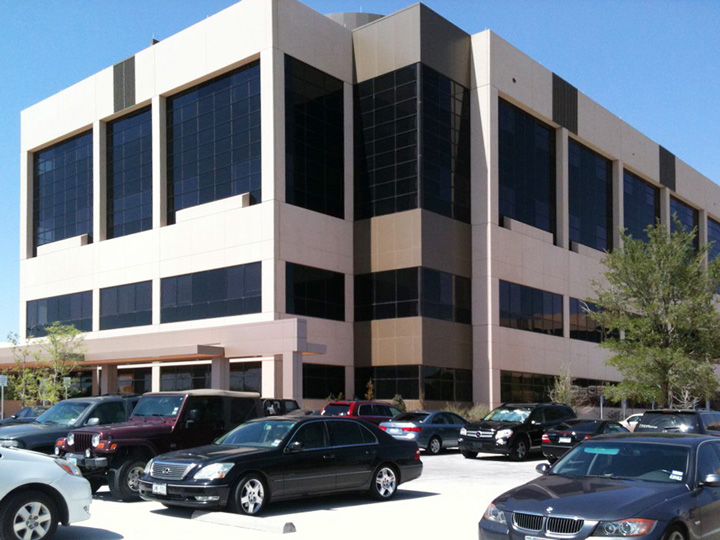 UMC's new East Tower is bigger and better
March 15, 2012
Originally published on the AVALANCHE-JOURNAL.
By Brittany Hoover
A walk-through of University Medical Center's new East Tower, immediately followed by a tour of the current labor and delivery and post partum facilities, blatantly reveals the need for expansion and updating.
In comparison, the new building is astonishingly more spacious — the neonatal intensive care unit is double the square feet of UMC's current facility — and the building was designed with the patients and their families in mind, as well as the staff.
During an Avalanche-Journal reporter's tour of the nearly complete East Tower with UMC spokesman Eric Finley and Director of Patient Education Melissa Perez on Thursday, three words continuously came up: privacy, comfort and convenience.
Family Birth Center
When patients and their families arrive at the East Tower, to the east of UMC where parking was formerly located, they will enter through the south door. The building only has one main entrance, as it's a secure building. A circle drive provides a convenient drop-off site near the door, and maternity parking is located up front.
As patients enter the building, they are greeted by an array of welcoming colors — pale yellows, blues, greens and browns one would find in a home.
"It's warm; it's comforting," said Finley. "It doesn't look intimidating."
The triage nurse's station is front and center, and the lobby has ample seating for patients and families.
A Starbucks cafe is in the lobby area.
Perez said classrooms for UMC's free educational classes are easy to find on the first floor, and will be equipped with Smartboards.
The rooms are used for classes, including child care, breast feeding, breathing and natural childbirth.
The first place expecting families will be is the Family Birth Center, or labor and delivery, Perez said.
Family Birth Center rooms all are equipped with a rocking chair, foldout couch, patient bed, computer and monitor for charting, TV and walk-in shower.
Electronic medical records allow physicians to log onto the system remotely to review patients' vitals and contractions.
The East Tower is the first UMC building designed with the system already installed.
Lights are controlled by remotes and wall switches, and the lights fold down out of the ceilings as to not take up space in the rooms.
Each room has a personal seating area directly outside the door complete with a sofa, chair and table for family members or friends.
Laptop or tablet stands fold out of the walls so physicians can complete wireless charting conveniently outside each room, a feature not available in the current facility.
"These are everywhere, so it's really nice," Perez said. "Physicians, their time is quick. They come in; they chart; they write. This kind of moves them along faster."
A triage room also is located on the first floor for patients who aren't sure if they're in labor yet. Physicians can meet them in the room and examine them before admitting them or sending them home.
Nurses' stations are located throughout the floor, where they're easy to see from patient rooms. Since the new unit has more beds, and the beds are spread out over half of the floor, it was an essential feature for patient and family comfort, Perez said.
"I think when your nurse is more visible — even, not to you, because you're in your room, whether you're in your bed, or moving around in there — but to your family, if they see you, the more often they recognize you. How many times do you hear people go, 'Oh, I'm not sure which one my nurse is,'? Then, you look out and go, 'Oh, it's her right there, because she's sitting right in front of you.' "
Operating rooms for patients who have cesarean sections are much larger than the current rooms at UMC, Perez said.
Lights are easily moved and rotated above the patient bed, and medication and supplies are stored in a wall of cabinets. The anesthesia office is located close by.
The current rule at UMC is the patient and one guest can be in the room. Although Perez said she's not sure if that rule will change, there is more space for several people to be in the operating room at once. It's a sterile environment, so once a person is in, he or she must stay, she added.
"Currently, space was an issue, so they let one person come back with her," she said. "If she had a doula, the doula could also come back with her. You're kind of in there, and it's pretty snug. Here (the space) will allow the mom, husband, the doula, the physician, OR tech, anesthesia — you've got a variety of folks already in there — so this will allow some movement, some space to move."
Neonatal intensive care unit
For newborns who are admitted to the neonatal intensive care unit, the new facility offers a much more intimate experience for families. The current NICU is one large room bustling with bodies and noises from machines. That room's maximum is 30, while the new NICU holds 43.
The new NICU contains six pods per hallway and an isolation area the current unit doesn't offer. The pods offer an area for the parents to gather and spend time with their newborn in a more private setting. Seating is available, and they can store their belongings in cabinets in the pod. The NICU unit contains 50 infant beds.
"This will encourage their parents to spend a lot more time here," Perez said. "At least they've got some place to sit that's inside their little space. … Some of these babies, yes, they live in Lubbock County, but some of them also live in eastern New Mexico. They get flown in to us. They live anywhere in 90 to 120 miles from us, even farther than that. The next neonatal intensive care unit is Albuquerque for them and then Dallas, Amarillo for Texas. It's a distance. … You want to spend time here."
The Ronald McDonald House houses families for long-term stays, but UMC offers another option for shorter stays, Perez said. Small apartment-style rooms called "Rooming-In Rooms" give parents the opportunity to practice caring for their babies until they're comfortable. Oxygen and anything else the babies are on can be hooked up in the rooms.
"It's for the parents to get comfortable. Usually, people just need a day or two to kind of get used to the sounds and the cues of the machines, the monitors," Perez said.
Family Care Unit
After giving birth, patients are moved from the Family Birth Center to the post partum unit, or Family Care Unit, located on the second floor. Patients travel upstairs on a private elevator, shielding the new moms from the public, and the doors are equipped with an alarm system.
The recovery area has 45 rooms total.
Patients who have vaginal births typically stay two days in the unit, and those who have cesarean sections usually stay three to four days. Patients have the choice of queen-size beds, meant to be comforting for couples, or regular hospital beds.
Babies stay bedside with the parents throughout the day and can stay in the nursery overnight if the parents would like some rest.
A lactation specialist is located on the floor, as well as a pumping room for employees. Pumps are provided, and the lactation specialist in available from about 7 a.m. to midnight, daily.
A milk bank also is located in the Family Care Unit to collect donor milk. UMC has a partnership with the North Texas Milk Bank of America based in Fort Worth, which provided the freezer and storage space and sends a courier to pick up milk weekly.
"NICU, sometimes there are moms that cannot breast feed, and there are babies who need, or their physicians want them to have breast milk. What the milk banks do, is they take it, process it, pasteurize it and take it back out to hospitals that request that donor milk," Perez said.
The antepartum area for patients on hospitalized bed rest until delivery also is on the second floor. The current facility contains four rooms, and the East Tower has 10. The rooms are designed to be as comfortable as possible for patients who may have to stay in the hospital for six weeks.
"It's no fun to be here that way, but if you have to be, you want to have some space where you can close your door and have some privacy a little bit," Perez said.
On the way out, all new parents will visit the discharge classroom to go through a checklist, including the car seat, the birth certificate and other things new parents often forget. Any questions or concerns can be answered here, as UMC wants to make sure all parents feel comfortable before heading home. The program began a couple of years ago, Perez said, and has significantly cut down on calls from patients who forgot something.
There's another family waiting room located on the second floor for family members or friends picking up a new mom, something the current post partum floor does not have.
Moving time
Although the construction of the building is complete, work continues inside the East Tower. Photographs of staff members' children are being hung in the hallways, and cleaning crews and IT specialists are hard at work.
In addition to the photographs, and two pieces of art by local artist Erika Pochybova-Johnson, the building proudly displays employee- and donor-names plaques throughout the facility.
During the last year, the UMC Foundation raised funds in support of the East Tower through the Imagine the Miracles Campaign.
The cost for the entire East Tower project was $46 million, and $22 million to $25 million was spent on the neonatal intensive care unit. The third and fourth floors are shelled in for future expansion.
"We did a lot of fundraising for this, so we tried to put names throughout the building to recognize that, like the (donor plaques located in the NICU pods)," Finley said. "We had an employee fundraiser drive as well, so we put up names of employees who donated money to the campaign. … We try to recognize folks who gave contributions here."
Staff will begin moving into the new building March 27.
On April 2, the labor and delivery and post partum patients will be moved to the new facility, and April 3 the NICU babies will begin moving over. UMC is hosting several tours before those moves take place.
The facility will be open to the public from 10 a.m. to noon March 24, with a ribbon-cutting presentation taking place at 11 a.m. New and expectant parents may tour the facility from 3 to 5 p.m. March 25 or 5 to 6:30 p.m. March 26.